It's getting spooky close to Halloween. Last year, I put out a full podcast about a murderous Hungarian countess who (may have) spent her spa days bathing in the blood of her subjects. This year I fucked up. I need something eerie before the holiday passes me by. But some ghost stories require pages of build-up to get really spooky. Luckily, there's a class of spirit purpose-built to scare the shit out of you. Let's talk about toilet ghosts.
Aka Manto
The first of our privy poltergeists is the Japanese bathroom phantom Aka Manto, a masked figure clothed in a long red cape and hood. Aka Manto approaches his victims as they're using the toilet and offers them a choice: red toilet paper or blue. Weigh your decision, but it won't matter much. If you pick red, the visitor will slice you open, drenching your body in blood. If you pick the blue, he'll strangle you to death, turning your skin blue.
It's a grim prospect either way. Is there any path that sidesteps gruesome death? Fans of critical logic may have sniffed out a false choice here: Aka Manto asks you to choose between red and blue, but what if you don't? What if you ask for yellow? Major fuck-up. Some online versions of the myth suggest Aka Manto, a freak among freaks, will respond by drowning you in your own urine. Yucky. Asking for a different color of paper could get you dragged to hell, which, compared to the other three, seems a little out of left field. But what if you think even further out of the box? What if you tell Aka Manto you don't need or want any toilet paper, or you can't pick between the two he offers? By most accounts, this terrifying invader of privacy will be very understanding and respectfully leave you alone. Indecision saves lives. This reflects a sort of theme of unorthodox problem solving in Japanese horror. Those familiar with another Japanese legend, the demon woman Kuchisake Onna, who was dressing in pandemic chic long before the rest of us, know that she presents those she encounters with a similar dilemma. Revealing a mangled face beneath her surgical mask, Kuchisake Onna asks prospective victims whether or not they think she's pretty. Say no and she'll kill you. Say yes and she'll mutilate you in her image. The only way out is not to play.
Like most of the figures described here, stories of Aka Manto are proliferated mostly in Japanese elementary schools. Naturally, the narrative varies from telling to telling, transmissions being dependent on the memories of shitster kids trying to terrify their friends. Sometimes it's a red or blue cape the specter offers his victims. That one's not as scary to me. In a moment of need in a public restroom, I can see myself accepting toilet paper from a stranger. Never in my life would I let someone sell me bathroom merch. Some accounts go out of their way to explain that Aka Manto is very attractive under his mask. Atlas Obscura calls him "irresistibly handsome". But I have yet to see one source that explains why that matters, given that he keeps the mask on the whole time. Imagine a side character in every Halloween film casually mentioning how fuckable Michael Myers is beneath the jumpsuit and William Shatner flesh mask.
I'm not sold on Aka Manto's undeniable lust. If you're more easily swooned, or you want to spend more time with our hygienic haunter for other reasons, he stars in a first-person horror game on Steam. I haven't had the pleasure of playing it. One reviewer writes, "this shit scary as hell".
---
Hanako-san
Next on our list of humanesque bathroom creeps is Hanako-san, or Toire no Hanako-san, the ghost of a young girl who haunts school restrooms. Unlike Aka Manto, who arrives unexpectedly and uncalled for, Hanako-san is purposefully summoned, in line with Western figures like Bloody Mary. Children who approach the third stall in a girl's bathroom and knock three times are said to hear the voice of Hanako. For the (un)lucky few, the ghastly image of a young girl with a bob haircut and clad in a white shirt and red skirt will appear. Hanako doesn't come with any riddles. She's not particularly keen on conversation. In some tellings, those daring enough to summon her meet their ends when a hand emerges from the toilet to pull them down into it, eventually to hell. That's where all plumbing leads. In other accounts, a giant lizard devours those inconsiderate souls who disturb its friend.
The past of Japanese Moaning Myrtle is obscured by those who relay her story, but many tellings do explain that she was killed in World War II, when an American bombing raid leveled the building she was in, crushing her beneath the rubble.
I owe a lot of the knowledge in this piece to The Book of Yōkai by Michael Dylan Foster. The "Yōkai" in the title doesn't really have an English translation. "Ghosts" doesn't quite do it. "Spirit" gets closer. In Japanese folklore, Yōkai are a diverse class of supernatural beings, sometimes humanoid, sometimes animal, sometimes mischievous, sometimes benevolent. The book is a pretty informative overview of this type of creature. Sometimes the author ventures into speculation, though, like in one case where he muses on the idea that Hanako-san is inspired by Japanese schoolgirls experiencing menstruation for the first time, and that this can explain her red skirt. This kinda reminds me of that bit in my Bloodbath podcast where I refer to an article that suggests Countess Bathory's preference for female victims could mean she's bisexual. I dunno. Seems like a stretch, but I guess it's out there.
---
Kashima Reiko
Hanako-san isn't alone in her restroom haunting. I mean, that's obvious — she has a lizard friend, and sexy toilet paper salesman Aka Manto visits from time to time. But bathroom-haunting as an activity is also a pastime of Kashima Reiko, another schoolgirl figure. Unlike Hanako and Aka Manto, this ghostly girl isn't specifically a bathroom spirit. She's more often linked to trains, the wretched vehicles responsible for her fate. The story goes that Kashima Reiko was hit by a train at such a speed that her body was split in half at the waist. A vengeful spirit, she now wanders locomotives, asking passengers if they know where to find her legs. If you're not careful, she might take yours.
My research into Kashima Reiko has left me with two questions: first, how she gets around without legs (astute readers may have taken note of the fact that she is, in fact, a ghost and may thereby have the power of levitation; I would posit that levitation is much cooler than having legs and suggest she should come to terms with this in-earnest upgrade), and second, what the hell she's doing in school bathrooms. It just seems so out of the way, unless there's a train station next door. Bathrooms have enough haunters already and I'm not even halfway done with our list.
Akaname
The next two figures don't fall within the realm of the paranormal like their predecessors. They're still yōkai, but they're not considered ghosts. The first, Akaname, takes his name from "Aka", a Japanese root meaning "dirt" or "filth". He's unrelated to Aka Manto, whose own "Aka" means "red". Akaname's name comes from his chosen diet, according to Foster, the "coating of scum that accrues to the sides of a bathtub". In some versions, Akaname isn't a wanderer who makes his way into your bathroom, but instead a creature born from the filth inside of it. Unlike his predecessors in this article, Akaname doesn't make a habit of explicitly fucking with those he visits. He's mostly interested in licking your bathtub and toilet. This kinda reminds me of what the internet kept telling me over and over when I lived in an old house with a centipede problem. "They're helpful!" everyone would explain, "they eat the other bugs!" Sure, I admit, they're helpful… but at what fucking cost?
---
Kappa
Next, those of you who stuck around are in for a real goddamn treat. This is the pièce de resistance of the article if I ever had one. Let's talk about kappas. Another non-ghost in the vein of Akaname, kappas are well-known Japanese folk creatures who resemble the Teenage Mutant Ninja Turtles with tonsures, perhaps better known as the monk haircut. Human interactions with kappas follow a relatively familiar form: the mischievous swamp-dwellers lead a horse or cow out into the sea and attempt to drown them. Y'know, as a prank. Unfortunately, these li'l guys are no match for the strength of their beast of burden targets, who commonly escape by ripping one of the kappa's arms off and retreating to the barn from whence they came.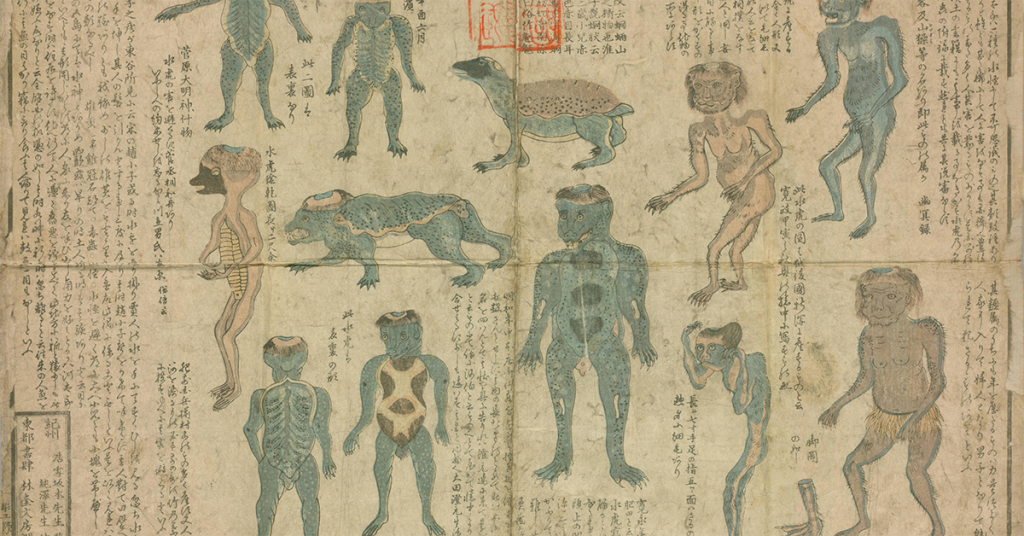 Back at the barn, the animal drops the kappa's arm for a farmer to find. If the farmer doesn't know what happened, they will soon when the kappa returns to retrieve what they've lost. Interested in reclaiming their limb, the kappa will approach the farmer and begin the process of negotiating for its return. Given that they're able to reattach the arm with limited instruments, one might correctly assume that these sea demons are talented in the medical arts. Some kappas agree in their negotiations to help the farmer with their farming or with some other task, but the most common transaction is education in medical skills in exchange for the disembodied arm.
If you were on the edge of your seat waiting to learn about the coolest toilet spirit of them all, you may so far be rightfully disappointed. But I made you a promise, and I intend to keep it. Kappas are known to hang out in swamps and seas, but being water spirits, they'll go anywhere wet. At sea, their hands are hazardous for wandering animals. But sometimes, in the middle of the night, when a dweller of a rural Japanese village squats to take a seat in the nearest outhouse, they'll feel a hairy, fleshy protrusion graze against the exposed flesh of their backside. Recoiling in fear, they'll turn in time to see a hirsute hand sticking out from the toilet below.
In one example of this story, a legend from Ehime Prefecture retold in the Book of Yōkai, the victim is a doctor's maid who promptly runs inside to fetch the doctor. Hearing her story, he does what doctors do and grabs his sword, vowing to "go conquer it". When he makes his way into the bathroom, the dumb creature's arm is still there. The doctor slices it off and returns to his lab to examine it, clearly not giving a shit about the living being in the fucking toilet. Not long after, the doctor hears a knock at the door. The apologetic kappa, ostensibly dripping wet and covered in human waste, expresses his contrition to the doctor and promises to never do anything evil again. The doctor naturally refuses, sticking to his right to keep the sentient creature's arm, but the kappa insists and agrees to sign a contract (say what you will about swamp-dwelling turtle men, but they're respectful of contract law) stipulating that he will teach the doctor every secret he knows in the field of bone-mending. The doctor agrees and thereafter makes a killing healing bone injuries.
The kappa's undying respect for cultural and legal tradition opens another path to its defeat: atop the kappa's tonsured head is a bowl-like depression filled with river water, its life essence. If you bow deeply enough toward one, the kappa will be obligated to return the favor, spilling the water and thus rendering it powerless. In the absence of a polite attitude, sumo wrestling is an equally-acceptable solution; kappas go nuts for sumo.
While a kappa's life essence is located in their cache of river water, the life essence they're most interested in is that of a human, which you and I both know is located just north of the butthole. When the kappa promised the doctor he'd renounce evil, this is what he was talking about. Kappas have an in-built urge to capture the shirikodama, a ball-shaped organ contemporary Japanese folks believed sat near the anus and housed the soul. If the kappa succeeds in stealing your anus ball, you die.
One explanation entertained by Foster is that the bodies of drowning victims were found to have an "open anus", as though something had been removed. For it to have been removed, it must have been valuable. Kappa aren't the only figures attracted to the anal soul bead. Fans of the Souls-like video game Sekiro: Shadows Die Twice may be familiar with the Headless, a hidden enemy who retrieves the shirikodama from the anus of those he kills.
Of course, despite their recreation in sewer systems and undying interest in the human butthole, kappas aren't disgusting — they hate flatulence, and in your moment of vulnerability, a well-timed fart could save your soul.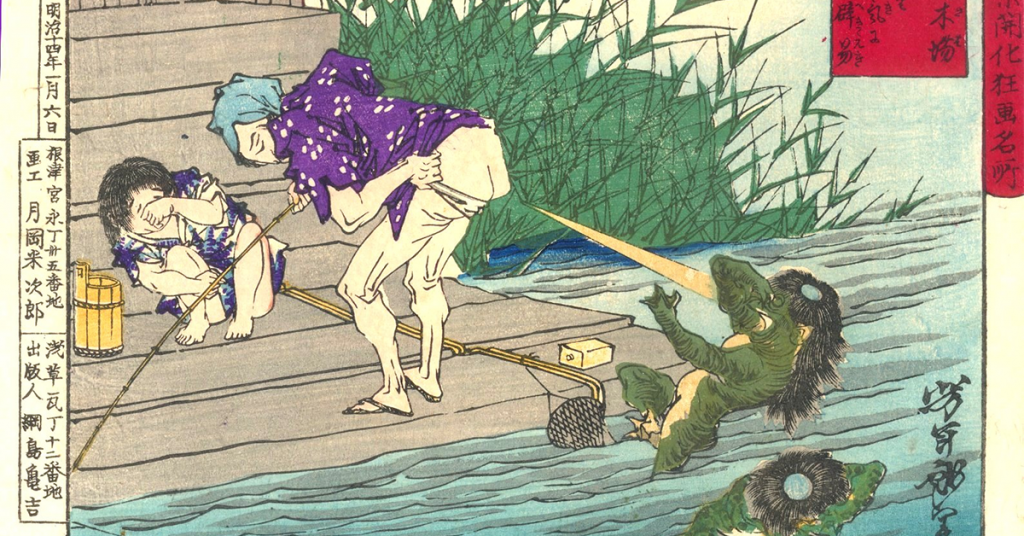 Today, the kappa has been rehabilitated as a popular symbol in Japan. They're sometimes depicted as friendly cartoon characters and, in one case, the mascot of a credit card company. The Animal Crossing series features a friendly sailor kappa named Kapp'n. They're also utilized in environmentalist campaigns where they appeal to passersby, asking them not to litter and spoil the local wilderness, lest they kill off all the butthole burglars. Foster writes, "in other words, a yōkai that used to represent the violence and unpredictability of the natural world, and especially water, has now literally become a poster child for the effort to stop the sacrifice of nature".
If you're looking for more, the kappa is by far the most popular creature I've talked about in this piece. Kappas appear all over the place in Japanese pop culture. My favorite example is Underwater Love, a pre-The Shape of Water tale of a woman's relationship with a kappa that Foster describes as a "fantasy soft-porn musical". Google offers up the following blurb: "Asuka works in a lakeside fish factory. She is just about to be married to her boss. One day, she encounters a kappa, a water creature living in the lake and learns that it is the reincarnation of Aoki, her first love. What ensues is a zany spectacle of love, music, and sex." The director's previous films include Sopping Wet Married Teacher: Doing it in Uniform and the equally-erotic Molester Train: The Wart.
---
Musing on the existence of bathroom ghosts and their place in Japanese culture, Foster suggests that the common point of origin is the bathroom as a "liminal space, exactly the sort of no-man's-land that yōkai like to frequent." Later in the paragraph, he writes "Moreover, a toilet—with its hole leading to somewhere else—can be thought of as a portal to another world." Again, I don't know about that. His final sentence, though, explains that a bathroom is "a space of vulnerability and transition and potential danger". That I agree with. Why are bathroom ghosts common? I'm no expert. I can't tell you for sure. But if you really pressed me at toilet paper-point, I wouldn't deviate far from that feeling of danger. Bathrooms, particularly public bathrooms, are spaces where we are uniquely vulnerable and often literally unclothed and unprotected. We present ourselves as we want no one to see us, and the idea of being intruded upon in that environment is almost as horrifying as the fates these intruders may impose on us. Okay. Now I'm treading too much toward bullshit.
Japan isn't the only country with bathroom spirits. West African folklore introduces children to Madam Koi Koi, the sadistic ghost of a teacher who attacks pupils while they're using the restroom. Elsewhere, bathroom spirits aren't always denigrated; sometimes they're revered. There's Cloacina, the Roman sewer and toilet goddess. Sometimes also known as the "Venus of the Sewer". One origin story says her worship started after a statue of the goddess Venus was found in Rome's largest sewer, the Cloaca Maxima. Cloacina presides over the sewers, the toilets that lead to them, and, naturally, the purification of sex for married people. Today, there's a company named after her that makes water treatment systems. They've been featured in Wines & Vines magazine. I don't know where they stand on the purity of matrimonial sex.
Closer to Japan, there's the Cheuksin, a South Korean toilet goddess that a government website admits "is known to be fierce and hostile". I guess so.
I hope learning about these toilet terrors hasn't scared you too bad. If there's one thing I have to accede to those who have contributed to Japanese mythology, it's the in-built escape mechanisms these stories carry. If you're trembling, take heart, there's a way to shit safely. Whenever the need arises, remember to use the first or second toilets in a restroom, or maybe the fourth — anything but the third. Knock twice, but not once more. Avoid disturbing girls in red skirts. Never leave home without a spare roll of toilet paper. Better make it two, just in case. When a potentially-attractive paper towel hocker meets you, you'll be ready.
Look before you sit, and consider not sitting at all; hovering a good foot or more above the seat and checking frequently will keep your soul protected. Better yet, never leave home without your samurai sword, and try to keep your bodily gas levels just above average in case you find yourself in need of a last-minute projectile defense. If nothing else, consider the security benefits of a guard pet and neglect the cleanliness of your bathroom long enough to spawn Akaname.
Sure, you could follow none of this advice and continue your regular bathroom usage as haphazardly as ever, in which case you're just one soul theft away from an eternity spent haunting the bathroom. I hope you like lizards.
Read More
Images