Picture Paris. The Eiffel Tower, Arc de Triomphe, the Champs-Elysées. Pretty iconic, yeah? Now pull back a little, and imagine the whole city, as viewed from just outside. You probably can't. Mostly because that's an insane request, but also because that's not how we look at Paris. New York's skyline is internationally famous. London's is well known. Paris's isn't what you think. It looks like this: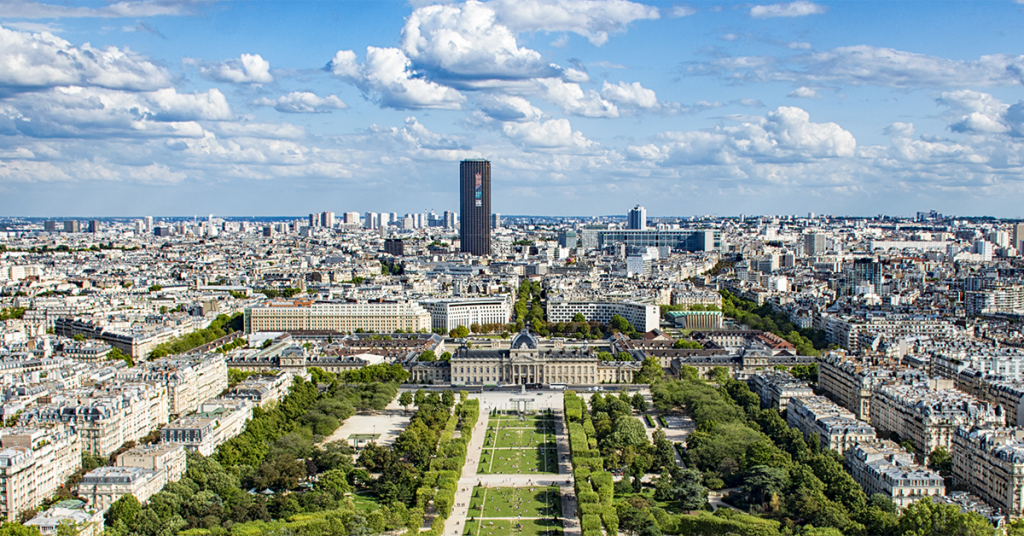 We don't see pictures of Paris's skyline, maybe in part because Parisiens are ashamed of it, but probably more because it doesn't mesh well with our expectations of the city of lights. History, art, romance, absurd black monolith.
The first thing that caught your eye in the above picture is the Tour Maine-Montparnasse. It's the tallest inhabited building in Paris proper. It was Paris's first skyscraper, and the city hated it so much, they vowed to make it their last. Two years after Maine-Montparnasse went up, the French capital banned the construction of buildings over seven stories tall.
Now, to be fair, if you've been to Paris (I haven't) or at least have some sort of casual familiarity with the layout of the city (I don't), you might be on the cusp of accusing me of trading in bullshit. Of course Paris has a skyline, you're about to point out, it's right here:
But you're wrong. These are all fake towers built to drum up tourism.
Just kidding, lol. Can you imagine? They're real towers, but they're also not in Paris. They exist just outside the city, in a suburb known as La Défense. When Paris banned the erection of tall buildings, La Défense didn't. And would-be developers of those very tall buildings figured they'd rather shift their plans just outside city limits than nix them completely in favor of spending way more money within the city itself. Over time, La Défense became the primary business district in Île-de-France (Paris's governing region) and France at large.
Tour Montparnasse is a mainstay on lists of the world's ugliest skyscrapers. Musing on the topic, Reuters contributors wrote, "While it's almost universally agreed that this ominous stick is a blight on the landscape of the world's most stunning city, its detractors admit that there is one very good reason to take in the view from the building's observation deck: it's the only place you can go to get a view of the city without it.". In short, the best part about Tour Montparnasse is that when you're there, you can't see Tour Montparnasse.
The constant criticism was enough to inspire the tower's owners to host a competition for architecture firms. The prize: the right to rebuild the façade, optimally in a prettier and more endearing fashion. The winners were selected in 2016.
The building's detractors are many, but some valiant souls do come to the defense of the much-maligned monument. Speaking to The New York Times in 2015, architect Daniel Libeskind describes the Parisian response to its construction as a sort of knee-jerk reaction to the realities of modern metropolitan life. The sort of low-density living desired by skyscraper-averse Parisians casts aside sustainable and more egalitarian dwelling in favor of more traditional aesthetics. He writes, "Parisians reacted aesthetically, as they are wont to do, but they failed to consider the consequences of what it means to be a vital, living city versus a museum city." Paris's attachment to the past, he seems to argue, could be robbing it of its future.
"It's a hellish piece of ugliness" English artist and writer William Morris once wrote, not about Montparnasse (by the time construction started, he'd been dead for the better part of a century), but about its taller, older cousin, the Eiffel Tower. Today, Gustave Eiffel's magnum opus, purpose-built for the 1889 Exposition Universelle, is, far and away, Paris's most iconic landmark.
Tour Montparnasse is not. But critics could easily argue that restrictions on building height limit the sort of creativity that gave the city its most significant draw. An architect ready to build the city's next Eiffel Tower has no recourse to do so. It's the sort of creativity restriction that might lead monument builders to construct the same statue over and over and in miniature form instead of trying something (anything) new.
Of course, those in favor of the skyscraper ban have their case too, arguments built on more than a war on ugliness. Speaking to BBC, anti-skyscraper activist Olivier de Monicault argues that skyscrapers are disruptive by nature, as the sort of architects skilled in designing them tend to focus more on the agnostic design of the building and not the surrounding culture of a potential construction site. Buildings are designed before their cities are chosen, de Monicault argues, which inherently prevents them from blending in.
The BBC piece, published in 2013, also quotes philosopher and dissenter Thiery Paquot who, in arguing for the ordained obsolescence of skyscrapers, said "I think we're moving towards a world where people will work at home or in cafes and, when they have to meet, they'll do so not in a skyscraper but somewhere really nice." Criticize philosophy all you want, but this dude predicted the pandemic era work-from-home boom seven years early.
Both sides make compelling arguments, but only one can win. In 2010, the Parisian government announced plans to relax the height restriction. Paris's age of limited growth was at its end. Architects looking to flock to the city of lights from supervertical oases like New York or Dubai should take pause, though. The prior universal limit of 37 meters was raised only slightly for residential dwellings, to a new maximum of 50 meters. Commercial developments have more space to build with an updated limit of 180 meters. That's considerably higher than the present restriction, but it's still 30 meters shy of Montparnasse and much shorter than the 300 meter Eiffel Tower. And while a brand new 180 meter tall building could be the 8th tallest in France, it wouldn't crack the top eighty in the United States.
With the new limits firmly set, architecture firms leapt at the opportunity to create the next ugly black obelisk. Doing a poor job at that, Swiss agency Herzog & de Meuron designed a glass-covered pyramid, Tour Triangle. The new development is set to make use of all 180 meters of available vertical real estate and will be the first skyscraper to break ground in inner Paris since a curse bestowed Tour Montparnasse on the city in 1969. Construction was set to begin in 2019, but reliable information on the project's present status is scarce.
Paris is changing, and with that, its iconic aesthetic is at risk. But both before and after the skyscraper ban, Paris was always changing, just as all cities are. Welcoming in change means risking major shifts like losing well-loved marketplaces to skyscraper shadows and entire neighborhoods to concrete loopy roads, but, done right, has the potential to breathe needed new life into an aging city. The Eiffel Tower was once new (and hated). So were the Arc de Triomphe, the Tuileries, and the Louvre. Not every project is going to be as instantly iconic as the Eiffel Tower. But then again, not every skyscraper is Tour Montparnasse.
Read More
Images